AdaCore Releases New Version of GNATcoverage Dynamic Analysis Tool
Award-winning, non-intrusive coverage tool supports all levels of safety certification and adds hardware probe functionality
TOULOUSE, PARIS and NEW YORK, February 5, 2014 – ERTS2 Conference – AdaCore today announced the release of GNATcoverage 1.2, the latest version of its source and object code coverage analysis tool. GNATcoverage's innovative technology does not require instrumentation of the executable, and this new product release supports usage with an iSystem hardware probe generating Nexus trace data, as well as usage with Valgrind on Linux.
GNATcoverage 1.2 supports Ada 95, Ada 2005 and many new features in Ada 2012. It can also be used for the upcoming SPARK 2014 revision and includes Beta support for C. Other enhancements include generation of coverage information for generics on a per-instance basis, and improved HTML output (sortable columns, project awareness). The tool is now integrated with the GNAT Pro development environment.
Qualification material is available to support GNATcoverage usage as a verification tool (DO-178B) or a tool at TQL-5 (DO-178C). It can be used as part of the verification process for systems that need to be certified up to Level A, and can thus supply analysis up to Modified Condition/Decision Coverage (MCDC). GNATcoverage can also be used for railway applications that need to comply with EN-50128:2011 (T2).
"This new release of GNATcoverage considerably expands the product's capabilities," said Cyrille Comar, AdaCore Managing Director. "Furthermore, now that it has been established that object branch coverage is not sufficient for claiming MCDC, we can assert that GNATcoverage is the only coverage technology that does complete MCDC without application-level instrumentation."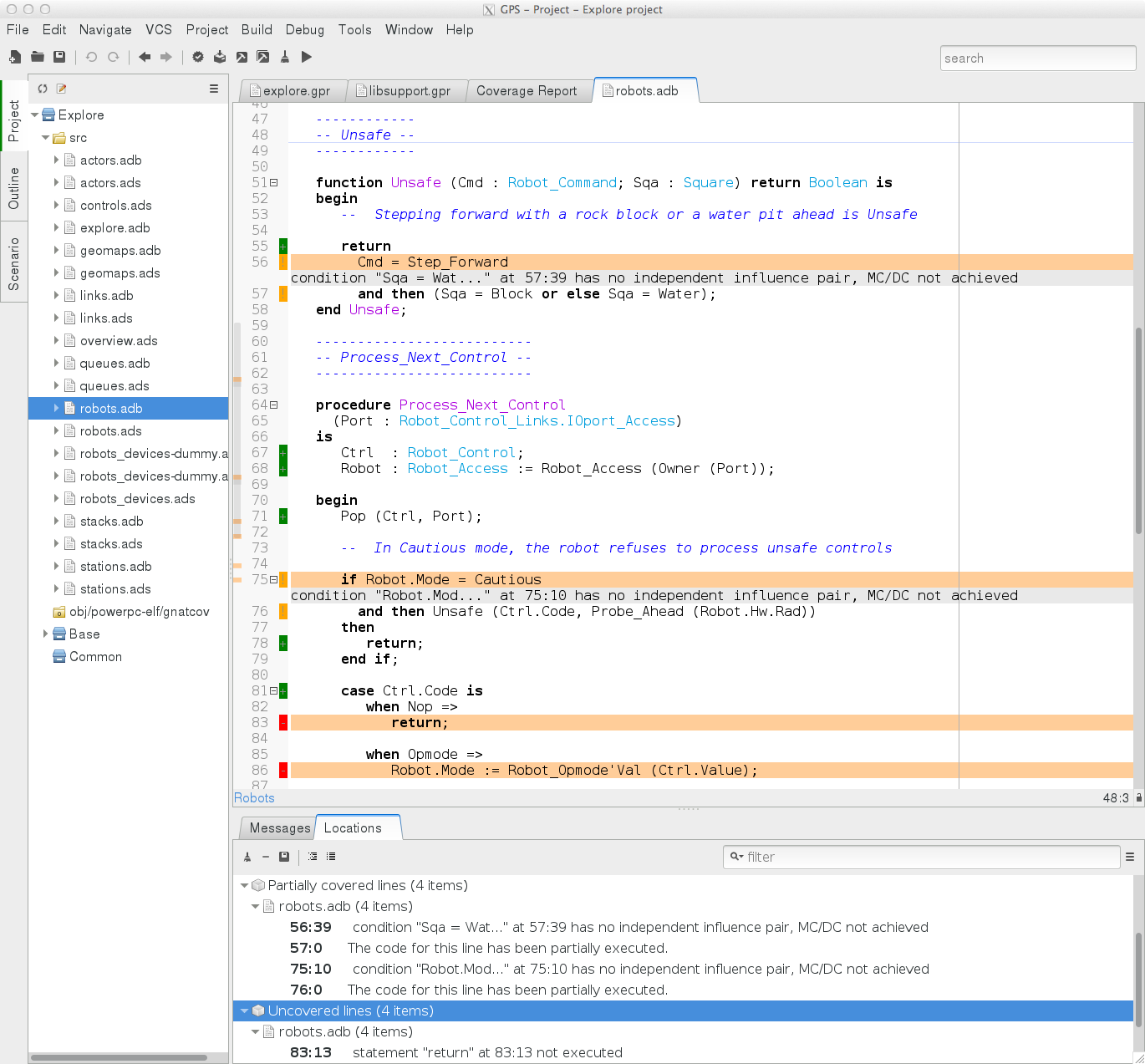 GNATcoverage assessment of MCDC and statement coverage (view from GPS IDE)
About GNATcoverage
Originally developed as part of the Couverture research project, GNATcoverage performs coverage analysis on both object code - instruction and branch coverage - and Ada and C language source code - statement, decision, and Modified Condition/Decision Coverage (MCDC). Unlike most current technologies, the tool works without requiring instrumentation of the executable. Instead, it analyzes trace data generated from a program running on either an instrumented version of AdaCore's GNATemulator tool, Valgrind on Linux, or a target platform equipped with a supported hardware probe. GNATcoverage helps software developers assess the breadth of a testing campaign and provides precise answers to the needs of safety-certification processes, such as the DO-178 avionics standard and the EN-50128 railway standard. GNATcoverage is a major example of an Open Source tool dedicated to software certification, and the tool was awarded an Electrons d'Or prize in 2011 by France's Electroniques magazine in recognition of its innovations and predicted impact on the industry.
Pricing and Availability
GNATcoverage 1.2 is immediately available, in coordination with the GNAT Pro 7.2 release. Please contact AdaCore (info@adacore.com) for information on pricing and supported configurations.
About AdaCore
AdaCore is the leading provider of commercial software solutions for Ada, a state-of-the-art programming language designed for large, long-lived applications where safety, security, and reliability are critical. AdaCore's flagship product is the open source GNAT Pro development environment, which comes with expert on-line support and is available on more platforms than any other Ada technology. AdaCore has an extensive world-wide customer base; see www.adacore.com/customers/ for further information.
Ada and GNAT Pro see a growing usage in high-integrity and safety-certified applications, including space-based systems, commercial aircraft avionics, military systems, air traffic management/control, railroad systems, and medical devices, and in security-sensitive domains, such as financial services. The SPARK Pro toolset, available from AdaCore, is especially useful in such contexts.
AdaCore has North American headquarters in New York and European headquarters in Paris. www.adacore.com
Press Contacts
Jamie Ayre
AdaCore
press@adacore.com
http://twitter.com/AdaCoreCompany
Jessie Glockner
Rainier Communications (for AdaCore)
Tel: 508-475-0025 x140
adacore@rainierco.com
http://twitter.com/JessieGlockner