AdaCore has a long and successful history serving customers in the Avionics industry. Our products help developers build and verify software systems that meet the highest levels of safety certification.
On average, more than 8 million people worldwide fly in commercial airplanes every day. That's over 3 billion passengers a year. Yet air travel continues to be our safest mode of transportation. This is in great part due to the fact that the Avionics industry has set the most stringent requirements for the development of safe and reliable software. 

Meeting DO-178 requirements is often a challenging and expensive process. AdaCore has years of experience working with avionics customers and has a deep understanding of the complexities of the certification process and tools needed to ease the workflow and manage costs.
Our Roots in Certification - Levels A and B in DO-178B / DO-178C
The company has extensive knowledge of and experience with avionics software certification standards, with AdaCore personnel playing an active role in standards-related working groups and committees. AdaCore President and co-founder Dr. Cyrille Comar is a recognized expert in software certification and participated in the development effort for DO-178C and its associated supplements.
Qualified Tools, Runtime Libraries and Certification Materials
Several of our tools have been qualified, thus reducing the effort to meet verification objectives including coding standard compliance, code accuracy (prevention of errors such as buffer overrun, integer overflow, and references to uninitialized variables), and structural coverage analysis up to MC/DC. Specialized high-assurance run-time libraries, including one that implements the Ravenscar tasking profile, are simple enough to be included in certified systems but expressive enough to support the needed functionality for hard real-time avionics software. Qualification and certification material for these tools and libraries is available and is adaptable to new project contexts.
Sustained Branches
Maintaining certified software brings unique challenges, since the customer needs to "freeze" on a specific version of the technology for stability, but still might require updated releases if a problem is encountered as the software evolves. AdaCore's "sustained branch" service, a standard part of the GNAT Pro assurance product, supports this requirement consistent with the guidance in DO-178B / DO-178C.
Customer Projects: Avionics
Airbus

Airbus Helicopters (France) has selected the GNAT Pro tool suite and the Ada programming language to develop new software components for the VSR700 prototype project. VSR700 is Airbus Helicopters' tactical unmanned aerial system (UAS) designed to meet the demanding requirements of global navies and armies in the 21st century.

Thales

Thales will use the GNAT Pro High-Integrity Edition for DO-178B and the Ada 2005 language to build the Air Data Inertial Reference Unit (ADIRU) for the A350 XWB (Xtra Wide-Body). The ADIRU provides precise in-flight positioning information, and the new system will therefore need to be certified to the highest safety levels. It will meet Level A of the DO-178B standard and use ARINC 653 multi-partition operating system MACS2.
View all customer projects »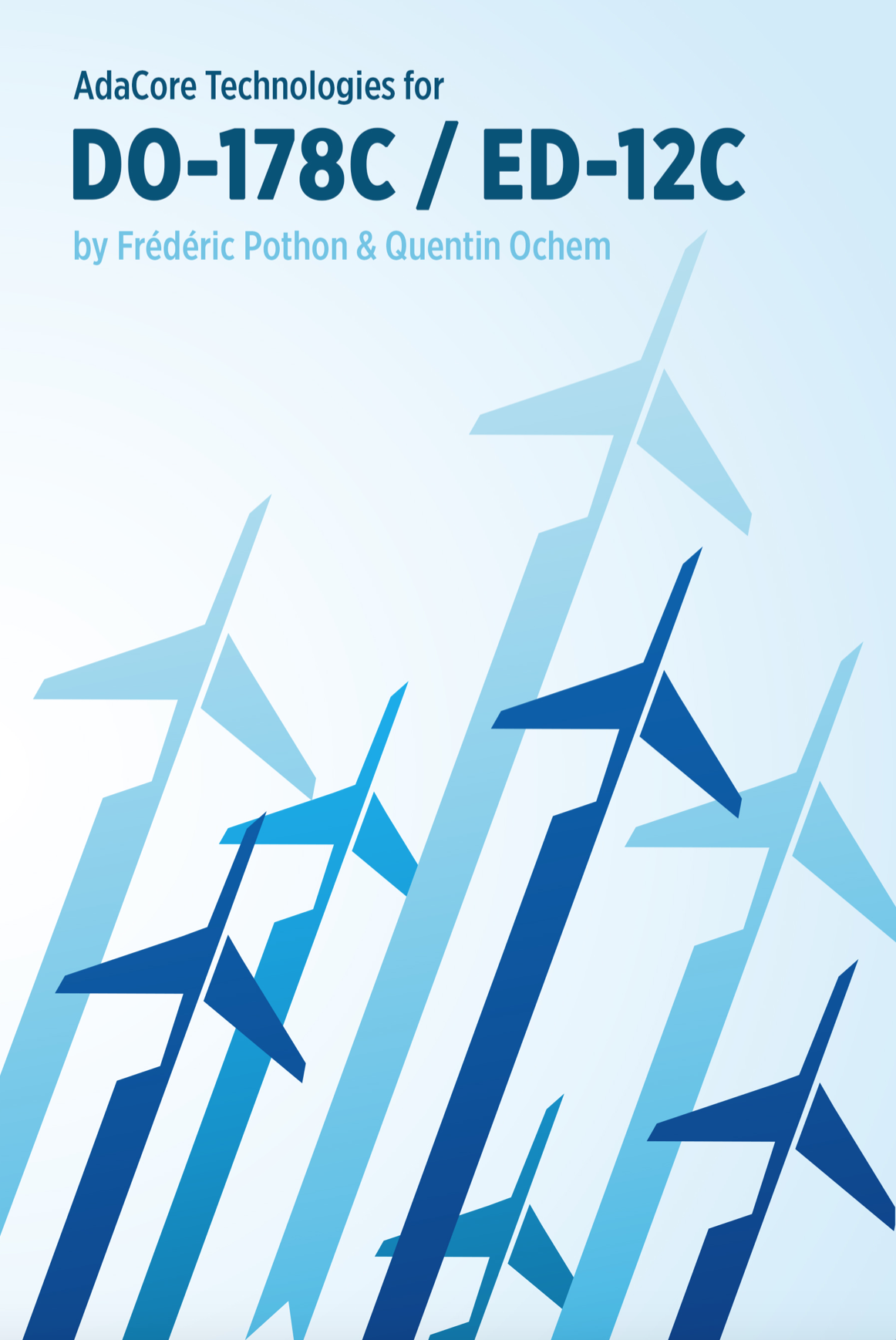 The guidance in the DO-178C / ED-12C standard and its associated technology-specific supplements helps achieve confidence that airborne software meets its requirements. Certifying that a system complies with this guidance is a challenging task, especially for the verification activities, but appropriate usage of qualified tools and specialized run- time libraries can significantly simplify the effort. This document explains how a number of technologies offered by AdaCore – tools, libraries, and supplemental services – can help.