Scan your Code for Security Vulnerabilities
The Software Engineering Institute estimates that 90% of reported security incidents are a result of exploits against software design or coding defects. To help developers eliminate coding defects during the development cycle—long before they can be exploited by malevolent attackers —AdaCore has put together the GNAT Static Analysis Suite.
Through automated processes, the GNAT Static Analysis Suite helps developers achieve clean, secure, high-quality Ada code. Its tools were designed specifically for Ada and have been refined through decades of experience. The GNAT Static Analysis Suite allows you to automatically scan for a number of known security vulnerabilities, allowing you to concentrate manual code review of the most complex problems.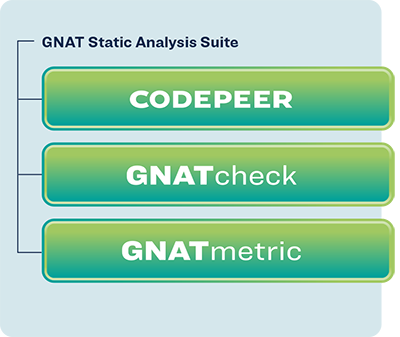 Integration with Synopsys' Coverity
Synopsys markets the Coverity® static analysis tool, which improves the reliability, safety, and security of applications written in a number of programming languages, including C and C++. To support Coverity customers needing static analysis for the Ada programming language, Synopsys is partnering with AdaCore. Synopsys customers will be able to use AdaCore's GNAT Static Analysis Suite for Ada, integrated within the Coverity solution, providing a common interface to navigate static analysis results for all languages.