AdaCore's GNATcoverage Product Awarded Electron d'Or Prize
Open Source coverage analysis tool wins prize in 14th annual award program

NEW YORK and PARIS, July 5, 2011 –AdaCore, provider of Ada tools and expertise for the mission-critical, safety-critical, and security-critical software communities, today announced that the GNATcoverage tool has received an Electron d'Or prize in the Software Tools category. The prestigious award program, sponsored by France's leading electronics trade publication, Electroniques magazine, identifies the most innovative products of the year in several different categories, highlighting technologies that will have a significant impact on the market. The jury for the Software Tools category consisted of industry experts who recognize the importance of having Open Source tools dedicated to software certification.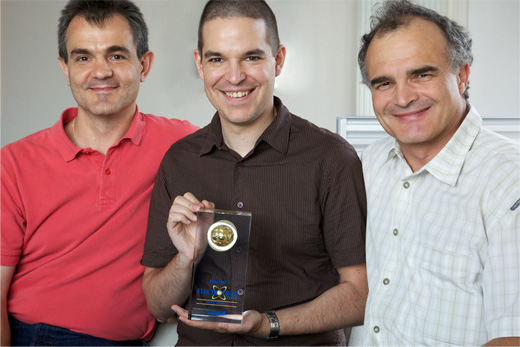 Originally developed as part of the Couverture research project, GNATcoverage performs coverage analysis on both object code (instruction and branch coverage) and Ada and C language source code (statement, decision and Modified Condition/Decision Coverage (MC/DC)). Unlike most current technologies, the tool works without requiring instrumentation of the executable. Instead, it runs directly on an instrumented version of GNATemulator, a lightweight and efficient emulator tool also developed in the context of the Couverture Project. GNATcoverage helps software developers assess the breadth of a testing campaign and provides precise answers to the needs of safety-certification processes, such as the DO-178 avionics standard.
"Open Source has revolutionized the world of operating systems, IDEs and Web tools," said Dr. Cyrille Comar, Managing Director of AdaCore EU. "We are pleased to bring this revolution to the safety-critical world. Sharing and building on top of others' achievements in a community with common interests is extremely effective. In the case of project Couverture, we could not have accomplished such a difficult project in such a short time without being able to build on top of other Open Source projects, such as QEMU, GCC, Binutils, etc. We hope that other projects will be built on top of Couverture in the same way."
Project Couverture was partially funded by the regional authorities of Paris and the Ile-de-France district and the French Ministry of Industry, under the auspices of the Free & Open Source Software group headed by Roberto Di Cosmo in System@tic, the R&D competitive cluster located in the Paris area. The institutions that participated in Project Couverture included AdaCore, Open Wide, Telecom ParisTech, and LIP6. The GNATcoverage and GNATemulator products and the Couverture Project are part of the larger Open-DO initiative that is looking to develop a variety of open source tools, combined with Lean and Agile processes, to aid software certification. More information can be found at www.open-do.org
About AdaCore
Founded in 1994, AdaCore is the leading provider of commercial software solutions for Ada, a state-of-the-art programming language designed for large, long-lived applications where safety, security, and reliability are critical. AdaCore's flagship product is the GNAT Pro development environment, which comes with expert on-line support and is available on more platforms than any other Ada technology. AdaCore has an extensive world-wide customer base; see our company page for further information.
Ada and GNAT Pro see a growing usage in high-integrity and safety-certified applications, including commercial aircraft avionics, military systems, air traffic management/control, railway systems and medical devices, and in security-sensitive domains such as financial services.
AdaCore has North American headquarters in New York and European headquarters in Paris. www.adacore.com
Press Contacts
press@adacore.com