Lockheed Martin Selects GNAT Pro for C-130J Software
AdaCore's Ada development environment chosen for Block 7.0 Upgrade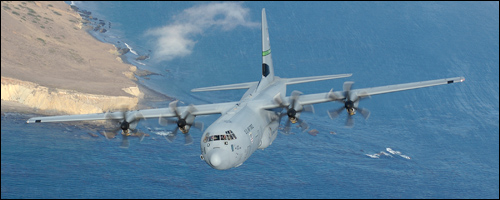 SAN DIEGO, NEW YORK and PARIS, June 1, 2009 - Avionics USA - AdaCore, a leading supplier of Ada development tools and support services, today announced that Lockheed Martin Aeronautics, Marietta, Georgia, will be using GNAT Pro to develop the Flight Management System Interface Manager and Radio Control software on the C-130J Super Hercules aircraft. The specific product is GNAT Pro High-Integrity Edition for a PowerPC target running VxWorks 653, the time- and memory-partitioned real-time operating system from Wind River Systems.
The Lockheed Martin C-130J Super Hercules is an advanced tactical airlifter, designed for mission flexibility, combat delivery, air-to-air refueling, special operations, disaster relief, and humanitarian missions. Its range, power, performance, safety redundancy, reliability, and sophisticated avionics allow the aircraft to meet demanding mission requirements. With Rolls-Royce AE2100D3 engines and Dowty R391 six-bladed composite propellers, the Super Hercules can operate in hot climates, and handle short, high-elevation airstrips with maximum payload.
The Super Hercules transports 33% more payload, using half the crew, while burning less fuel and flying faster, farther and higher than its predecessors.
• Faster: The C-130J is faster, climbs more quickly, and offers 21% more speed. Time-to-climb is 50% better than earlier model C-130s.
• Higher: The C-130J flies higher, climbs over the weather and has a 40% greater cruising altitude than the C-130H.
• Farther: The C-130J flies much farther with less fuel, providing up to 40% greater range than the C-130H.
GNAT Pro is being used for the Block 7.0 software upgrade of the C-130J - the second cooperative Block Upgrade initiative that is a true international partnership, with the development costs shared among the participating nations, including the US government. This upgrade includes a new Flight Management System developed cooperatively between GE Aviation, Grand Rapids, Michigan, and Lockheed Martin Aeronautics in Marietta, Georgia. Since GE Aviation has used the GNAT Pro development environment on the 787 and C-130AMP upgrade programs, Lockheed Martin's selection of GNAT Pro will make it easier for the two companies to work together on the C-130J upgrade.
"AdaCore has been providing Lockheed-Martin with Ada development technology and support services for many years, and I look forward to continuing this relationship on the C-130J upgrade project," said Robert Dewar, President and CEO of AdaCore. "Avionics is a domain where errors can have catastrophic consequences, and I am pleased that Ada and GNAT Pro are being recognized as technologies that can provide the necessary safety and reliability."
In the United States, the C-130J is used by the U.S. Air Force, Air Force Reserve, Air National Guard, Marine Corps, United States Air Force Special Operations Forces, Mission Rescue Units and Coast Guard. International C-130J operators include the United Kingdom, Australia, Italy, Denmark and Norway, with Canada, India, Qatar and Iraq soon joining their ranks.
About AdaCore
Founded in 1994, AdaCore is the leading provider of commercial software solutions for Ada, a state-of-the-art programming language designed for large, long-lived applications where safety, security, and reliability are critical. AdaCore's flagship product is the GNAT Pro development environment, which comes with expert on-line support and is available on more platforms than any other Ada technology. AdaCore has an extensive world-wide customer base; see http://www.adacore.com/customers/ for further information.
Ada and GNAT Pro see a growing usage in high-integrity and safety-certified applications, including commercial aircraft avionics, military systems, air traffic management/control, railroad systems, and medical devices, and in security-sensitive domains such as financial services.
AdaCore has North American headquarters in New York and European headquarters in Paris. www.adacore.com
Press Contacts
press@adacore.com